Dental Implants in Scarsdale
---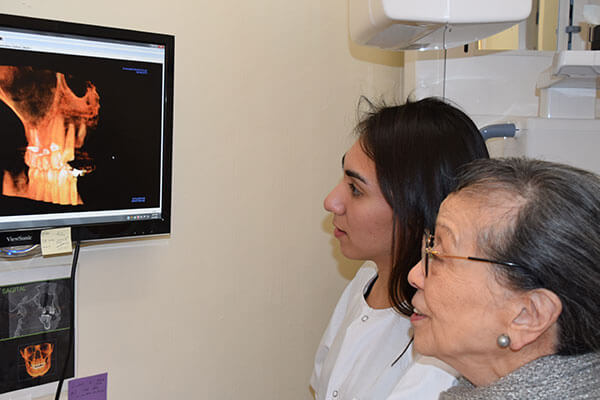 The doctors at Scarsdale Dental Group meet many patients who are reluctant to smile at first because they have one or more teeth that have imperfections or are missing. When patients leave our office after completing a treatment plan which includes dental implants, they are usually beaming from ear to ear.
---
What are Dental Implants?
Implants provide a strong foundation for fixed or removable replacement teeth. A dental implant is an artificial tooth root that is made of a biocompatible titanium alloy which is surgically inserted into the upper or lower jaw bone, serving as a foundation for a post. The dental implant and post support crowns (or bridge or dentures) collectively serve as a replacement tooth (or teeth).  Once a tooth is absent without an implant, the bony socket will erode. Placing an implant starts a healing process, known as osseointegration, your bone grows intimately around the roughened titanium surface. Once osseointegrated, abutments or posts are inserted into the implant, and the permanent teeth are attached.
Why Dental Implants?
Whether you have had a root canal, need to get a crown for a damaged tooth, to replace one or more teeth due to; physical trauma, gum disease, injury or any other reason, dental implants may be the perfect option to replace your teeth, restore your smile and regain your confidence. Scarsdale Dental Group recommends the use of dental implants to:
Support a crown, bridge or denture, making the fixtures more secure and comfortable
Improve ability to eat, chew and digest after some treatment plan
Preserve facial and bone features after some treatment plans
Preventing the existing teeth from drifting into any empty space left by the missing ones
Restoring enunciation
Types of Dental Implants
Dental Implants are installed in two ways: The preferable endosteal titanium implant is surgically connected directly into the jaw bone.  The endosteal titanium implants provide the maximum support for connecting posts that then bear single crowns or other dental fixtures.  
For patients that do not have sufficient jaw bone height, the subperiosteal metal frame is fitted onto the top of the jaw just below the gum tissue. As the gums heal, the frame becomes fixed to the jawbone. Metal posts, which are secured to the frame, can then be used to carry a single crown or hold other dental fixtures.
---
Single or Multiple Tooth Dental Implants
---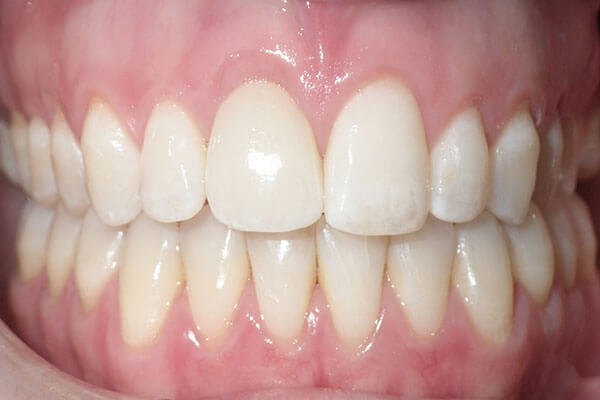 ---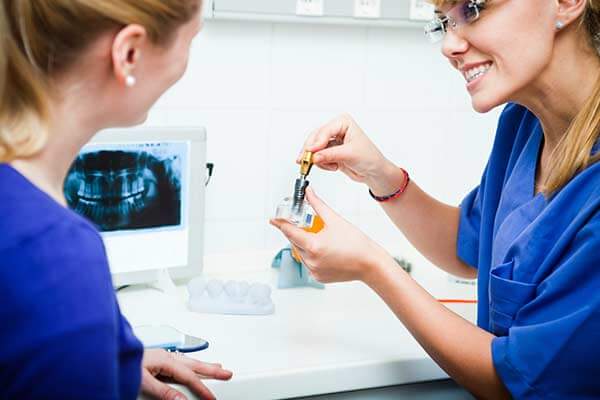 ---
Using 3-D scans and virtual treatment planning, along with specialized training, we are able to provide virtual guided implant placement plans for our patients. These virtual plans allow the doctor to take multiple aspects of implant placement and restoration into consideration, resulting in optimal aesthetics, function and longevity for the patient's final restoration.
Working with a 3-D model also allows the patient to better understand the procedures and visualize the end result.
---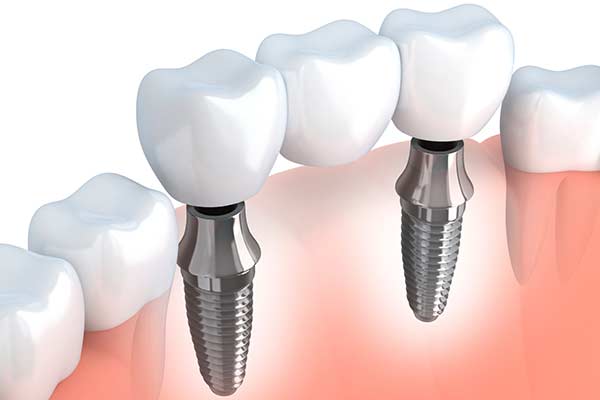 ---
An implant supported bridge is a restorative solution for spaces where three or more adjacent teeth are missing. The bridge replaces multiple adjacent missing teeth without the use of a denture. This restoration typically requires two implants to support the porcelain bridge. The bridge provides a functional and aesthetic replacement for the patient's natural teeth.
---
Implant Supported Dentures
---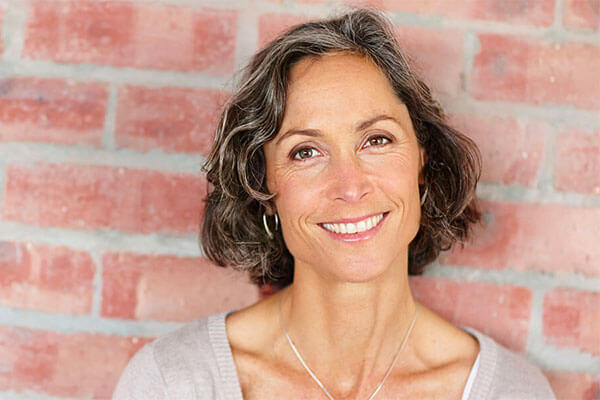 ---
Implant supported dentures can be either fixed or removable. The dentures require the placement of two or more implants on each jaw. If a removable denture is selected, the denture will "snap" on and off the implants and can be taken out for cleaning at night.
Easy to care for, this solution can simulate the look and feel of natural teeth and stay fixed in place with the implants acting as anchors. Patients will not experience the typical rocking and movement or gum irritation associated with dentures.  Dental implant placement can also help alleviate the sunken look that can occur with bone loss in the jaw by stimulating bone growth (osseointegration) in the area around the implants, preventing future bone loss.
---
Full Arch with Only 4 Implants
---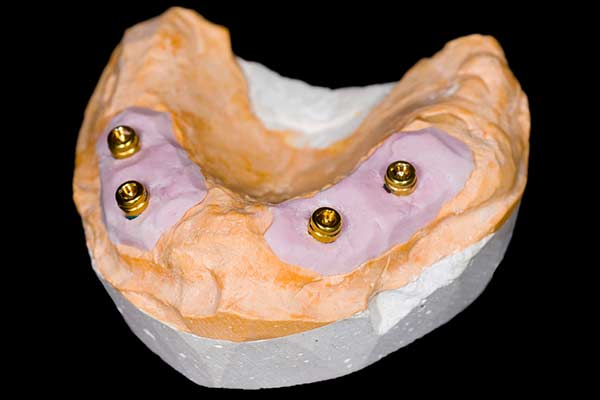 ---
The Same Day Teeth solution allows patients who are missing all of their upper or lower teeth to use an implant supported prosthesis with 4 -6 implants on each jaw as a replacement. Same Day Teeth are easy to care for, simulate the look and feel of natural teeth, do not impact speech or eating as there is no plate covering the roof of the mouth,  and stay fixed in place with the implants as anchors. Patients will not experience the typical rocking and movement or gum irritation associated with traditional dentures. With planning, the patient leaves the same day with a full arch of teeth, reducing both overall cost and healing time for the patient.
---
Mini Dental Implants (MDIs)
---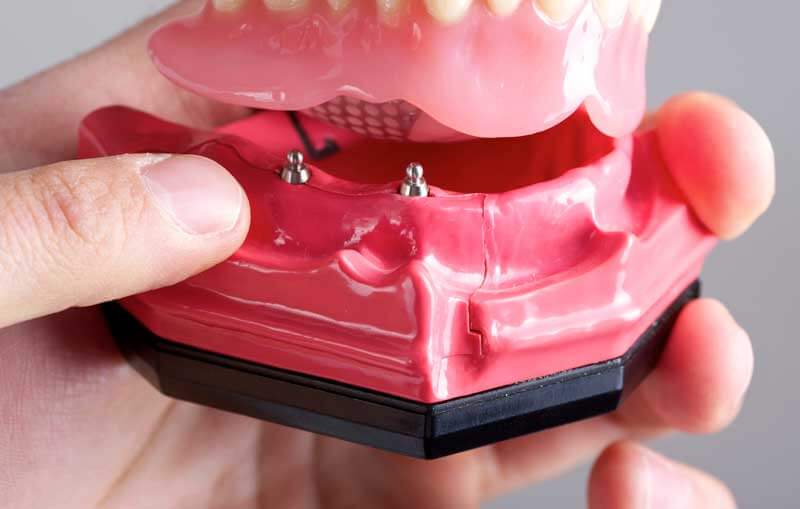 ---
There are times when a full size implant is not a viable option, and in many cases an MDI may be a great solution.  Small spaces or inadequate bone mass in the jaw may prevent the use of traditional implants. Mini Dental Implants are similar to regular implants but, as the name suggests, are significantly smaller in diameter.  Dental implants typically take 2 visits and require a waiting period of a few months from the time of implant placement to the time the permanent replacement tooth can be placed. The placement of MDIs is minimally invasive, often requiring only local anesthetic and no sutures.  For this reason, MDIs can often be placed with the final replacement tooth in one day.
---
The Benefits and Importance of Dental Implants
Want to know more about why you should choose dental implants?
Learn More